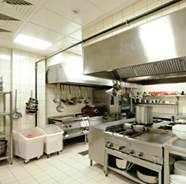 By selecting the proper heat-tracing cable and controls, a commercial flow maintenance system can maintain the temperature of fluid so that the fluid continues to flow through a pipe or a tank.
Flow Maintenance Heat Trace System
Flow maintenance involves heating a fluid in order to lower its viscosity so that it can be moved through a pipe or a tank.
nVent Thermal Management offers Raychem XL-Trace self-regulating heat trace cables with chemical resistant fluoropolymer jackets and DigiTrace controllers to maintain a wide range of fluid temperatures in a variety of applications, including fuel oil lines and greasy waste disposal lines.
Fuel Oil Lines — A fuel line flow maintenance system is designed to maintain the fluid temperature to maintain flow. Typical applications include fuel lines that carry #2 fuel oil maintained at 40°F, #6 fuel oil maintained at 110°F or other fluids with viscosity that decreases sufficiently below 150°F to enable flow.
Greasy Waste Disposal Lines — A grease-line flow maintenance system is designed to maintain a 110°F (43°C) fluid temperature to keep the Fat, Oil, Grease mixture (FOG) in suspension from the kitchen to the grease interceptor. Typical applications include piping used for the disposal of waste oils and fats created in the cooking process. Typical applications include greasy waste lines from commercial restaurants pre-wash stations and floor drains.  These drains must exit the building to an exterior grease trap, and must kept at temperature the entire distance to keep the FOG from concealing.
nVent Thermal Management offers XL-ERATE, the on-line design tool, to assist in selecting the correct heat trace cable and control system to suit your application requirements.